COVID-19
Operational Changes for the Autumn Term 2021
Step 4 has marked a new phase in the Government response to managing the risk of serious illness from the spread of COVID-19. We are moving away from stringent restrictions on everyone's day-to-day lives, towards advising people on how to protect themselves and others, alongside targeted interventions to reduce risk. As COVID-19 becomes a virus that we learn to live with, supported by the latest government guidance, we are in the position to be able to implement operational changes that are designed to continue to protect the school community from the transition of COVID-19 whilst minimising the negative impact any safety measures have on families and staff.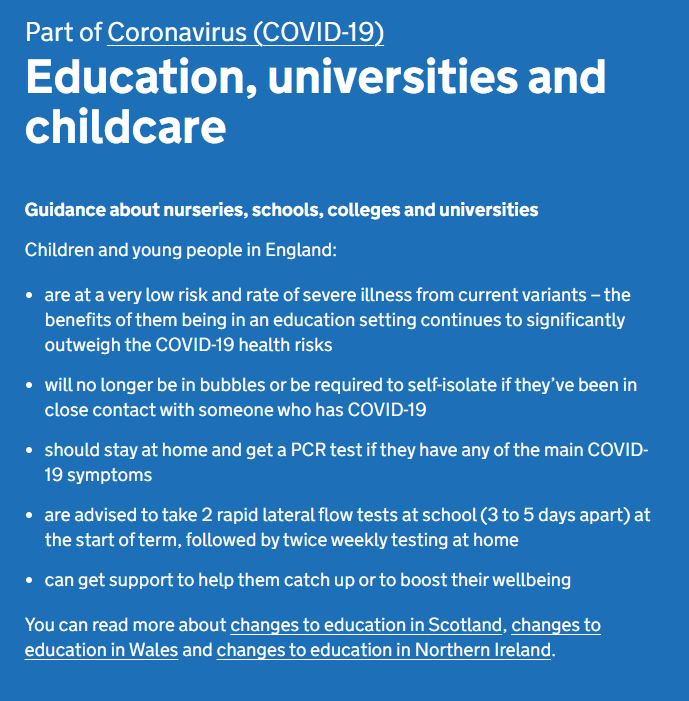 Get tested and self-isolate if you have symptoms
If you have symptoms or test positive
For most people, COVID-19 will be a mild illness. However, if you develop COVID-19 symptoms, self-isolate immediately and get a PCR test, even if your symptoms are mild.
The most important symptoms of COVID-19 are recent onset of any of the following:
a new continuous cough
a high temperature
a loss of, or change in, your normal sense of taste or smell
You should self-isolate at home while you book the test and wait for the results. You must self-isolate if you test positive. Your isolation period includes the day your symptoms started (or the day your test was taken if you do not have symptoms), and the next 10 full days. This is the law. You must self-isolate immediately and for the next 10 full days because this is the period of time when the virus is most likely to be passed on to others (the infectious period).
Self-isolating is important because you could pass the infection on to others, even if you do not have symptoms. You must stay at home for the full amount of time you are told to. This remains the law, regardless of whether you have been vaccinated.
Self-isolation exemptions
You're not required to self-isolate if you live in the same household as someone with COVID-19, or are a close contact of someone with COVID-19, and any of the following apply:
you're fully vaccinated
you're below the age of 18 years and 6 months
you've taken part in or are currently part of an approved COVID-19 vaccine trial
you're not able to get vaccinated for medical reasons
NHS Test and Trace will contact you to let you know that you have been identified as a contact and check whether you are legally required to self-isolate. If you're not legally required to self-isolate, you will be provided with advice on testing and given guidance on preventing the spread of COVID-19. Even if you do not have symptoms, you will be advised to get a PCR test as soon as possible.
You should not arrange to have a PCR test if you have previously received a positive PCR test result in the last 90 days, unless you develop any new symptoms of COVID-19, as it is possible for PCR tests to remain positive for some time after COVID-19 infection.
You can find further guidance for household contacts and guidance for non-household contacts of people with confirmed COVID-19 infections
For Further information about contact tracing and self-isolation please click here for information from NHS Test and Trace
For the latest advise from the Government please click here to read their publication: 'Coronavirus: how to stay safe and help prevent the spread'