Willow - Our Specialist School Dog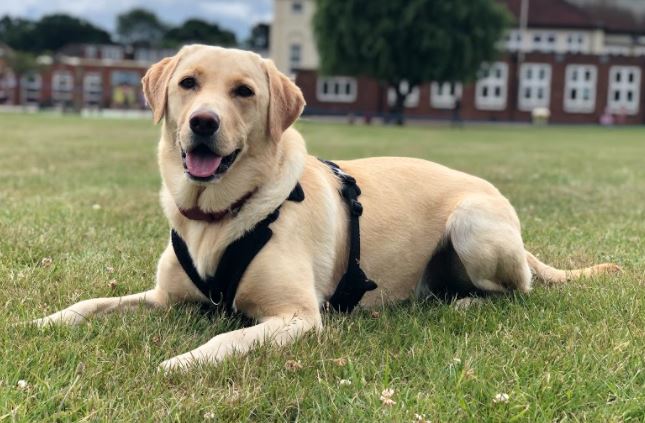 At Hillcross Primary School, we are dedicated to working together to provide an inspirational and exciting learning environment where children learn and develop academically and also learn valuable skills for life. Our Specialist School Dog, Willow, is an integral part of our school community as she:
benefits the children educationally and emotionally

increases the children's understanding of responsibility

develops children's empathy and nurturing skills through contact with a dog

boosts staff mental health and well-being
Willow is supervised by our Deputy Headteacher, Ms Beckett, at all times when in contact with children. Willow is based in Ms Beckett's office, where she has food, water, a bed and toys to keep her busy when she isn't working. Willow is
owned by Ms Beckett and lives with her when not at school. For the first two years of her life, Willow was affiliated with and trained under the guidance of 'Dogs Helping Kids' charity. At all times the stipulations set out in the school's Educational Assistance Dog standards (closely adapted from the Kennel Club 'Bark and Read' programme) and school risk assessment are upheld at all times.
E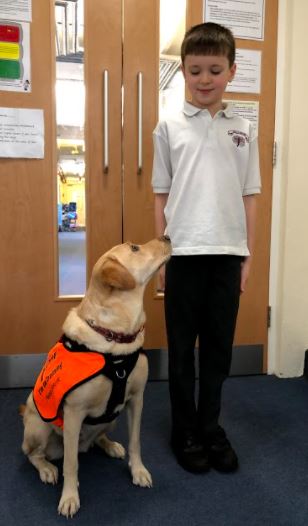 ach day, Willow works with children on a 1:1 or small group basis and the benefits of working with Willow have been phenomenal. The children play games such as 'find it' with Willow and take some responsibility for Willow learning new skills. Currently, Willow is learning to settle whilst children read to her and is even learning to read some flash cards herself!
When Willow is in school, she has an important job to do and it is important everyone in school is respectful of that and so our saying in school is 'Willow's law...just ignore.' Everyone in school also follows our Specialist School Dog Agreement: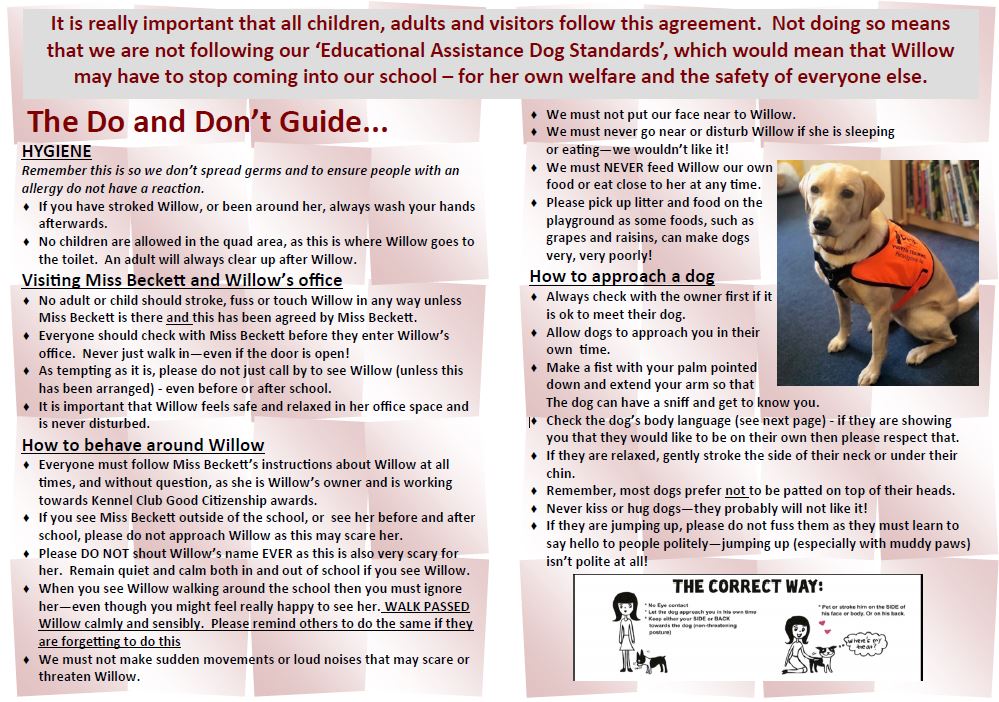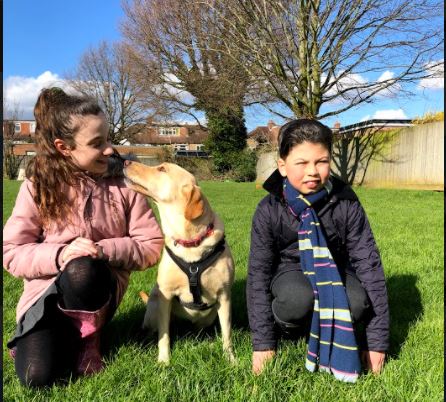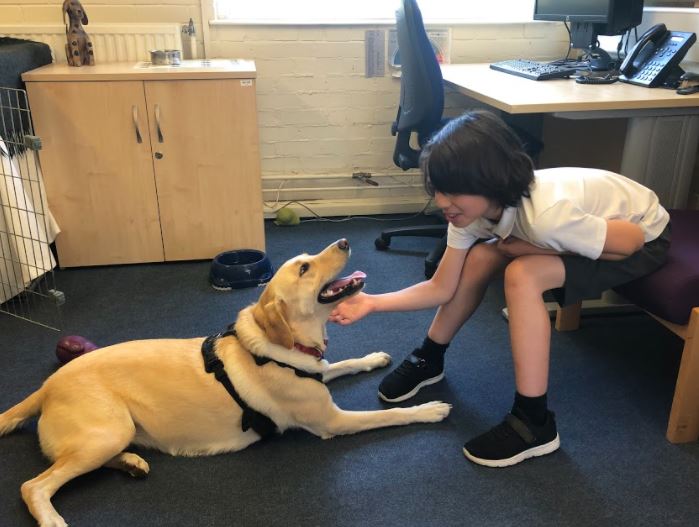 In school, we carefully follow the 'Educational Assistance Dog Standards of Working', which have been taken from and adapted from The Kennel Club 'Bark and Read-standards of practice for providers of animal interventions in school'. These standards ensure that the welfare of the children, staff and Willow are considered at all times. Willow is never allowed to roam around the school and all sessions are carefully monitored and supervised by Ms Beckett. Only positive reward-based dog training methods are used and Ms Beckett is trained so that she can recognise initial signs of stress, anxiety, discomfort, illness and fatigue in dogs.
Having Willow in school helps all the children to learn how to say "hello" to dogs appropriately (or not at all if the dog owners do not give permission), to read the body language of dogs (as this is how they communicate) and act responsibly when around all dogs. The children have learned this through collective worships and by learning to manage their impulsivity when they see Willow around school. Our Hillcross curriculum also incorporates Willow in lessons such as science, for example children have learned about the nutrients that Willow needs in order to stay healthy and, in Design Technology, children have designed a waterproof coat to keep Willow dry in rainy weather.
Here's some of the feedback from the children Willow has worked with:



Here is some more information about Willow: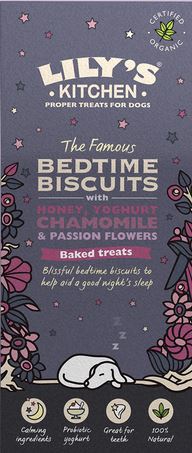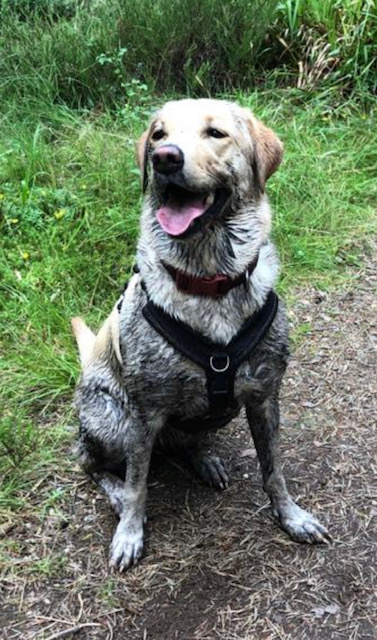 Willow is nearly three years old and her birthday is 6th May.
Her favourite foods are: boiled eggs, carrots, cooked peas and Lilly's Kitchen bedtime biscuits (Ms Beckett has to limit Willow to only one of these before bed!).
Willow is named after our school emblem, the Willow tree.
Although Willow has a very special job in school, when she is not in school, Willow is an everyday dog and enjoys swimming (a lot!), running through muddy puddles, spending time with Ms Beckett's nephew and going on very long hikes with Ms Beckett.