More information about Computing
At Hillcross Primary School we recognise that Computing is an essential tool for learning and the key for raising standards in all areas of the curriculum, with a major focus on English and Mathematics. In the Computing curriculum, there is a great emphasis on programming, as well as a focus on developing children's digital literacy and understanding of computer science.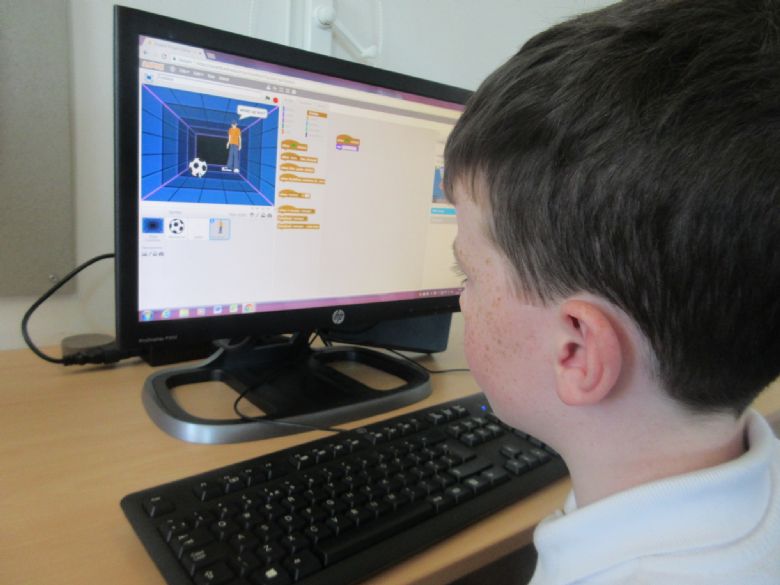 The use of computers and technology motivates pupils with their learning and enables them to make good progress across subject areas. Pupils learn to use these tools to communicate and handle information and present it in a variety of ways. They learn to control a variety of electronic devices and develop an understanding of the use of control in everyday life. Children also develop their computational thinking skills, understanding how a computer works and how they can be used to solve problems. In addition, children become digital citizens; understanding the use of technology in society and both the benefits and risks involved in using the internet to communicate locally and globally.
What the children think
"I like computing because we get to do coding and make our own characters move around." A Year 3 child.
"In computing I have learnt how to be a toy designer. I have done this by learning about inputs and outputs in Scratch." A Year 4 child.
Our Computing Curriculum
Across the school we use Rising Stars, Switched on Computing, which has integrated the National Curriculum into each unit of work
Switched on Computing includes six flexible units for each year group covering:
Programming
Computational thinking
Creativity
Computer networks
Communication and collaboration
Productivity
Online safety
Here are some of the exciting units of work children have the opportunity to experience:
We are Treasure-hunters - Using programmable toys/Bee-Bots and Blue Bot apps in Year One
We are Games Testers - Year Two have the opportunity to find out how Scratch games work using algorithms,
We are Network Engineers - In year 3, children Investigate how computer networks function, including the internet, and testing them using command prompts
We are HTML Editors - Year 4 children enjoy learning about the history of the web, studying HTML (hypertext mark-up language) to create webpages
We are Bloggers - Year 5 children comment on each others' work in an online learning community using a media-rich blog and respond to comments safely and respectfully
We are App Developers - Presents Year 6 children with the chance to create a working app using algorithms and a programming toolkit to code
Keeping children safe online
We take online safety very seriously and ensure that all our children are equipped to deal with issues that may arise in the digital world. In every Computing lesson we discuss an aspect of online safety to ensure that children are aware of potential dangers, where to go for help and support as well as ensuring they are accessing age-appropriate material.
We will have a visit from the NSPCC during the Spring Term as part of their Stand Up, Speak Out programme as well as hosting a parent/carer workshop to help our school community better understand the digital lives that our children are a part of and how to keep them safe.
Through our Computing curriculum we aim that children can:
understand and apply the fundamental principles of computer science, including logic, algorithms, data representation, and communication

analyse problems in computational terms, and have repeated practical experience of writing computer programs in order to solve such problems

evaluate and apply information technology, including new or unfamiliar technologies, analytically to solve problems.

develop their ability to be responsible, competent, confident and creative users of information and communication technology.
Some websites you might find particularly interesting
How can I find out more about the Computing my child is going to learn?
Please visit your child's year group page to look at the Topic Overview Charts. These documents show you what your child will be learning each half term and how the different subjects link together. There are also SMSC (social, moral, spiritual and cultural) Charts and these show how Thinking Skills, British Values, PSHE and Equality learning link directly to each topic.