Virtual Tour
As a parent myself, I know that choosing the right school for our children is a really important decision. Usually we encourage prospective families to come and visit Hillcross so that they can experience for themselves our positive and collaborative ethos; see how passionate we are about learning and ensuring our children grow as individuals; and so that you can meet our amazing children and staff.
Unfortunately due to the safety measures in place to protect against the COVID-19 pandemic, we are unable to invite visitors into school at the moment. However, in order to provide prospective parents with as much information as possible we provide the following:
Key information that prospective parents often ask us about when visiting the school (scroll down the page).
A video link (below) to enable you to see our school in action.
The views of different members of our school community (click the link on the right hand side 'What do other people say about us?')
Do also explore the rest of the school website as it holds a wealth of other information about us.
How well do children perform academically at Hillcross?
At Hillcross Primary School we are extremely proud of the progress our children make in their learning from Reception all the way through their primary school journey until they leave in year six. Due to Coronavirus, we do not have any statutory assessment data for the academic year 2019-2020, but the government progress measures for the 2018/19 placed our school as performing above average in reading, writing and maths overall.

Not only do children make progress, but the vast majority leave us having achieved the expected standard. This means that, as a school, we achieve in line with the national averages (set by the government) of children achieving this standard across the subjects of reading, writing and maths.
Our more able children do very well and make better than expected progress from KS1 to the end of KS2. This is further reinforced by our attainment data, which shows that, in all three subjects combined, 13% of the group cohort achieved the higher standard, compared to the national average of 11%. In 2018/19 our high prior attaining children (more able) scored a progress measure of 1.93 in Reading (with 0.0 being 'expected' progress) compared to the national average of 0.03. In writing, the school's progress measure for high prior attaining children was 1.68, compared to the national average of 0.2 and, in maths, high prior attaining children made a 3.26 measure of progress in comparison to the national average of 0.2.
Children who are classed as disadvantaged, also make above average progress across reading, writing and maths.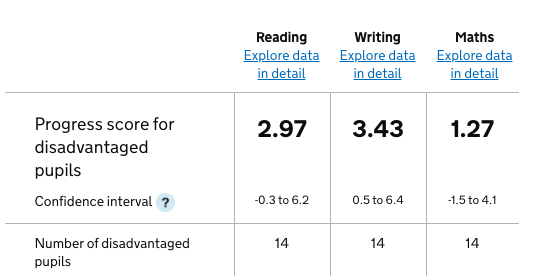 All of our disadvantaged children benefit from the spending of the school's pupil premium fund in order that they are given every opportunity to succeed and develop a passion for education that drives them forward positively into their high school careers and beyond.
At Hillcross, we believe all of our children can succeed and each child, irrespective of their race, gender, socio-economic status, prior attainment and SEND needs is provided with a cohesive curriculum they can access and which provides appropriate challenges and scaffolds which enable them to make progress and achieve.
We track all children's progress termly and our in-school data since the last statutory assessment data for the academic year 2018/19 indicates that this progress pattern continues, so that year on year our children make above average progress in their learning.
If there is anything specific you would like to ask in order to make an informed decision about choosing the right primary school for your child, please email info@hillcross.merton.sch.uk or call the school office on 0208 542 6936 and we will get back to you as soon as we can.
Accredited Awards
Please click on the icon to go to the school report (Ofsted, EYFS Quality Mark and Thinking School) or to find out more about the award: