Hillcross Primary School
In this section...
Art and Design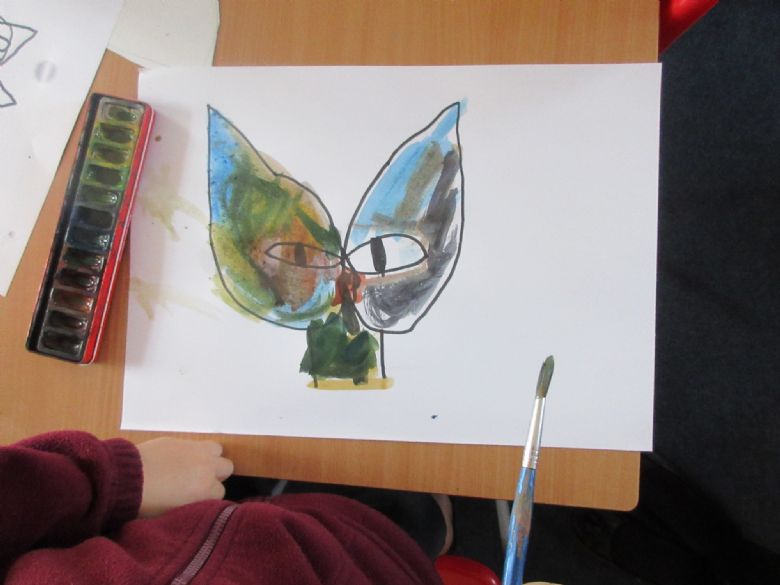 At Hillcross Primary School we value Art and Design because of its contribution to the development of the whole child emotionally, intellectually and socially. It creates in children a sense of purpose and enjoyment.
This is reinforced by the National Curriculum for Art and Design that states:
'Art, craft and design embody some of the highest forms of human creativity and a high quality art education should engage inspire and challenge pupils, equipping them with the knowledge and skills to experiment, invent and create their own works of art, craft and design.'
We believe that Art and Design has a significant and valuable role to play in the overall ethos of our school and will act upon the National Curriculum guidelines in accordance with our own values, to ensure that all children have the opportunity to express themselves freely whilst developing and refining their skills and knowledge of the subject and how it contributes to the wealth of our nation.
Our Art and Design curriculum promotes the use of drawing, sketching, colour blending, painting, printing, collage and textiles to allow children to progressively develop these skills as they move up through the school.
What the children think
coming soon!
Our Art Curriculum
In Nursery and Reception, planning is implemented using 'Developmental Matters' from the Early Years Foundation Stage Document. This relates to 'Understanding of the World'.
In Years One to Six we use the National Curriculum as the basis of our curriculum planning and deliver Art and Design lessons within the context of a topic. This enables children to make cross curricular links with their learning and explore British Values and equality within a learning context. It also provides meaningful opportunities for children to apply basic skills, such as maths and writing, to their Art and Design learning. Here are some examples of the exciting topics we cover at Hillcross:
A Moment in Time - From studying famous portraits such as Mona Lisa and Madame Matisse, Year One use pattern and collage materials to capture themselves in a moment as they create a self-portrait

Year Two

Year Three

Year Four

Year Five

Year Six
Through our Art and Design Curriculum we aim that children:
produce creative work, exploring their ideas and recording their experiences

become proficient in drawing, painting, sculpture and other art techniques

evaluate and analyse creative works using the language of art, craft and design

know about great artists, craft makers and designers and understand the historical and cultural development of their art forms
A high quality education in Art and Design should show progression of critical thinking and the ability to work with a range of tools and media with confidence. Children should be able to apply their knowledge and understanding of art to their own work.
Some websites you might find particularly interesting
The British Museum - www.britishmuseum.org
Camden Arts Centre - www.camdenartscentre.org
Tate Modern - www.tate.org.uk
Dulwich Picture Gallery - www.dulwichpicturegallery.org.uk
Barbican Art Gallery - www.barbican.org.uk
National Portrait Gallery - www.npg.org.uk
Space London Fields - www.spacestudios.org.uk
Why not take a visit to one of the galleries!
How can I find out more about the Art and Design my child is going to learn?
Please visit your child's year group page to look at the Topic Overview Charts. These documents show you what your child will be learning each half term and how the different subjects link together. There are also SMSC (social, moral, spiritual and cultural) Charts and these show how Thinking Skills, British Values, PSHE and Equality learning link directly to each topic.