Hillcross Primary School
In this section...
Performance Information
The information below shows you how Hillcross performed at Foundation Stage, Key Stage 1 and Key Stage 2 this year. The data is compared to National results 2014 as this year's National data will not be available until December.
In Foundation Stage children are assessed against the 'Early Learning Goals' (ELG). These goals cover a range of areas of development, as you can see from the table below.
2015 will be the last year that National Curriculum levels will be used to report results. In Key stage 1 & 2, children are expected to achieve a Level 2 in Year 2 and a Level 4 in Year 6 when they leave primary school. Children working at Level 3 and Level 5 are working at above average levels of attainment. Children achieving Level 6 are working at the level taught in secondary school within Key Stage 3 and these children will have a particular aptitude in this area.
For more detailed information follow the links at the bottom of this page
Standards at Foundation Stage (2014-15)
The 'Good Level of Development' is where children have achieved the ELG in all of the 'prime areas' and 'Literacy' & 'Maths'.
At Hillcross in this year 68% children achieved a Good Level of Development. Nationally this percentage was 66%
Standards at Key Stage 1 (2014-15)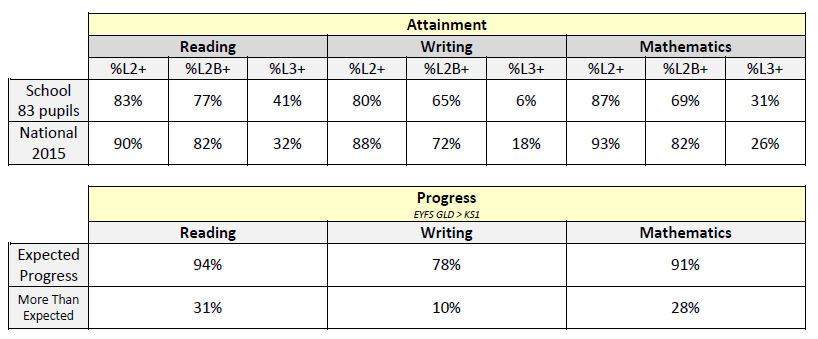 Standards at Key Stage 2 (2014-15)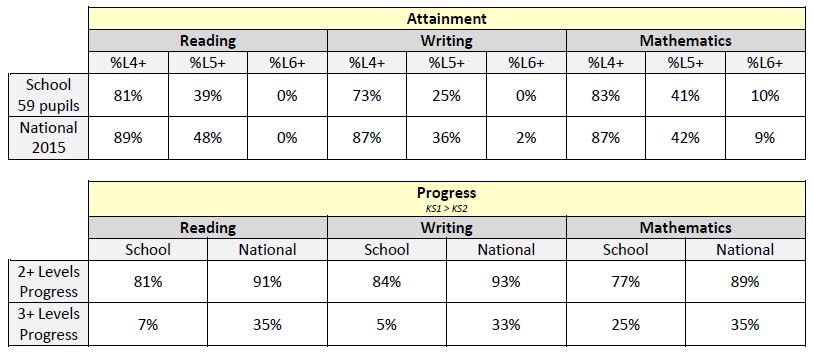 School Data in More Detail
By following these links you can see more detail about standards achieved by Hillcross pupils at the end of key stages 1 and 2 and compare them to national outcomes.
School data on the Department for Education's website
This site gives information about:
The school;
Our SAT results;
Comparisons between our results and those for the Local Authority and for the whole of England;
How well we are doing at raising our children's achievement;
Our attendance rates;
How we spend our money;
Our staffing;
Our last Ofsted inspection.
Data Dashboard on Ofsted's website
This site gives key data gathered by Ofsted in the form of a series of bar graphs. (Ofsted collect performance data on schools every year).