Radicalisation and Extremism: The Prevent Strategy and British Values
What is the Prevent Strategy?
'Prevent' is a government strategy designed to stop people becoming terrorists or supporting extremist causes. The Prevent Strategy covers all types of terrorism and extremism, including the extreme right wing, religious extremists and other causes.
How does the Prevent Strategy apply to schools?
From July 2015 all schools (as well as organisations) have a duty to safeguard children from radicalisation and extremism. This means we have a responsibility to protect children from extremist and violent views in the same way we protect them from drugs or gang violence. Importantly, we can provide a safe place for pupils to discuss these issues so they better understand how to protect themselves.
For more information about the Prevent Strategy at Hillcross, click on the link on the right-hand side of the page.
What are British Values
The Government set out their definition of British Values in the Prevent Strategy. The Department for Education have reinforced the need to 'To create and enforce a clear and rigorous expectation on all schools to promote the fundamental British values of:
Democracy,
The rule of law,
Individual liberty,
Mutual respect and tolerance of those with different faiths and beliefs'.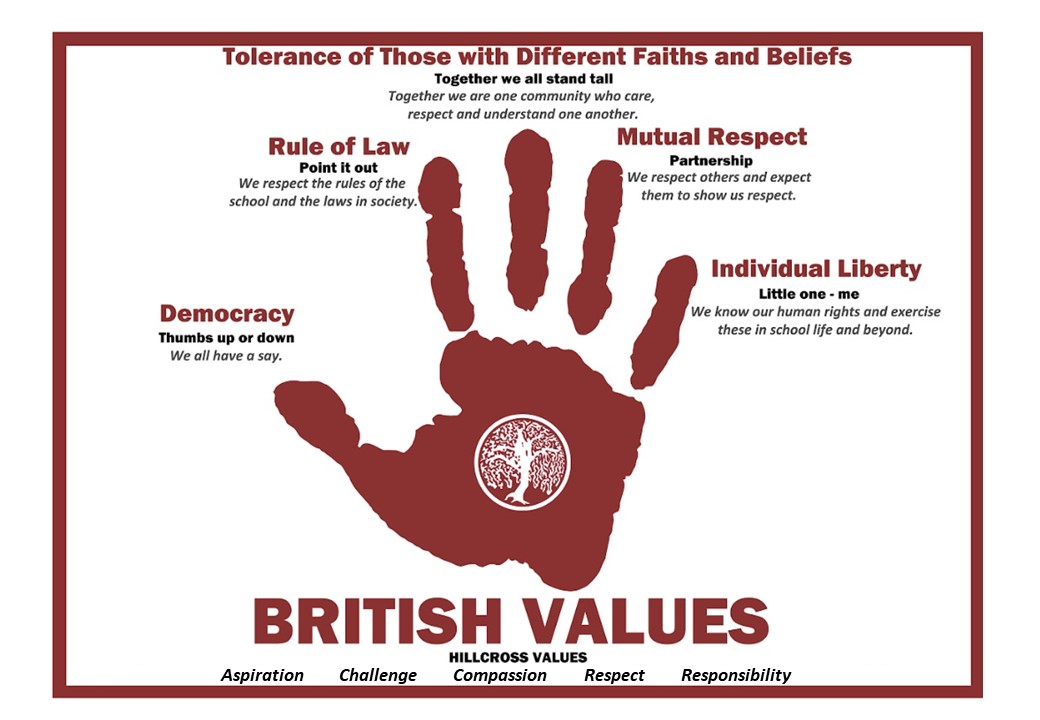 How can families support their children?
Online Safety
Ensuring your child is safe online is a crucial part of protecting them from the risk of being groomed. Messages of hate can take many forms. Extremist groups often use online platforms to recruit young people. Parents can find answers to common questions and resources to help protect their child on the Educate Against Hate parent hub. This excellent website provides support to schools and families - click on the link on the right-hand side of the page.
Having an inclusive attitude - equality.
Ensuring your child accepts and respects differences between themselves of others is crucial. Exposure to one-sided points of view all contribute to the process of radicalisation. Encourage them to challenge all forms of discrimination and help them find out as much as they can about individual and groups of people they do not know much about.