A Healthy School
Hillcross Primary School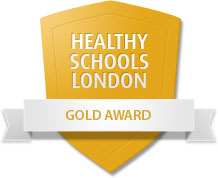 Healthy School Gold Status
We are very committed to maintaining this standard and aim to promote and support healthy lifestyles and choices for the children, their families and ourselves. Research undertaken by the School Food Trust has found that eating a healthy diet can have a direct impact on children's ability to learn effectively and has a positive effect on their concentration and behaviour. Across the country there is increasing concern about rising rates of obesity and related health problems in children. As a school we believe it is part of our responsibility to help children learn how to keep themselves healthy and we encourage them to eat healthily, exercise regularly and to drink plenty of water.
As part of our school curriculum offer we develop the children's understanding of how to be healthy and fit. Subjects such as Science, PE, Design and Technology and PSHE all contain elements relating of leading an active healthy lifestyle.
All children from Years 1 to 6 will engage in two PE sessions each week alongside break and lunchtime play opportunities. Children in the Foundation Stage will also have a PE lesson in addition to their daily use of the outdoor learning environment. A range of extra-curricular clubs are also available to children to help them to stay active. PE kits are a vital part of school equipment to help teach the pupils about safety, health and hygiene. These must be brought into school on a Monday and left at school until Friday. This will ensure that your child has access to the PE curriculum should their usual day need to be swopped or if an additional PE opportunity presents itself.
All children should have a balanced diet, which includes plenty of water and fruit, alongside their three main meals. Breakfast is essential and we urge all families to ensure their children have a suitable breakfast before coming to school. Throughout their day they will also need regular access to fresh drinking water to keep them hydrated and alert for learning.
Lunch is an important meal for everyone, particularly growing school-aged children. At Hillcross we want to ensure that all children enjoy their lunchtimes and have the opportunity to eat a healthy and nutritional lunch.
If your child has any allergies or dietary needs it is important that we know about these immediately in order to ensure they are kept safe at school. We often carry out cooking sessions or have food tasting opportunities.
Get Set Eat Fresh
We were very excited to be promoting our lifelong healthy habits last year with Aldi's Get Set to Eat Fresh campaign. You may like to look at some of the home time challenges below that children have been taking part in since the campaign began.