Year Group 3

Spring 1
This half-term, our topic is Settle Down. Please see below for the newsletter for more information: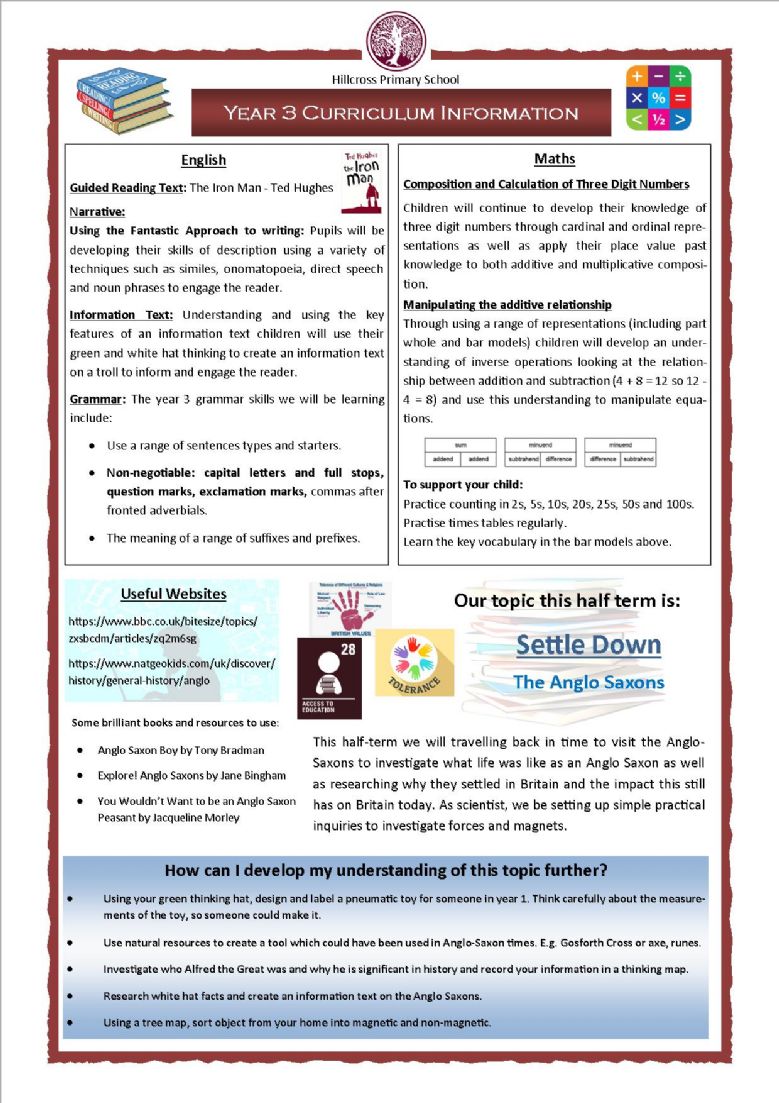 Key Information
PE
Children should bring a pair of plimsolls or indoor trainers into school in their PE bag. These will be kept in school for the whole term, unless the shoes become too small, and we will send them home earlier.
Team Elder PE days are Thursday and Friday.
Team Rowan PE days are Monday and Thursday.
Children will need to wear their full PE Kit to school on these days and bring their school shoes (and a change of socks in case they get muddy) with them in a plastic carrier bag. This is so that if they get muddy they can change into their school shoes without walking mud throughout the school. Please be mindful of the weather and choose the most appropriate PE kit (tracksuit bottoms in winter and shorts in summer). Children will wear their PE kits home.
Water Bottles & Snacks
Please ensure both your child's water bottle and snack box is clearly labelled, as this ensures we can return this to your child if it gets misplaced.
Children will be able to bring healthy fruit/vegetable snacks into school, but these must be in either a plastic container or in plastic/paper bags to minimise the risk of cross contamination.
Pencil Cases
Children are not to bring their own pencil case into school from home - all equipment your child requires for their learning will be provided by the school.
Home Learning
This will be set on Google Classroom. However, when your child completes learning on paper, please encourage your child to follow our Presentation Policy and to ensure they use a neat cursive script.
Safeguarding
Hillcross is committed to safeguarding and promoting the welfare of children and expects all staff, volunteers and visitors to share this commitment. This means that we have a Child Protection Policy and supporting procedures in place. All staff (including supply staff, volunteers and governors) must ensure that they are aware of these procedures. Parents and carers are welcome to read the policy on request.
Our Designated Safeguarding Leads (DSLs) are:
Lisa Francis – Headteacher
Stephanie Mayar- Assistant Headteacher/SENCO
Lee Christy - Assistant Headteacher
Tanja Doig – Assistant Headteacher